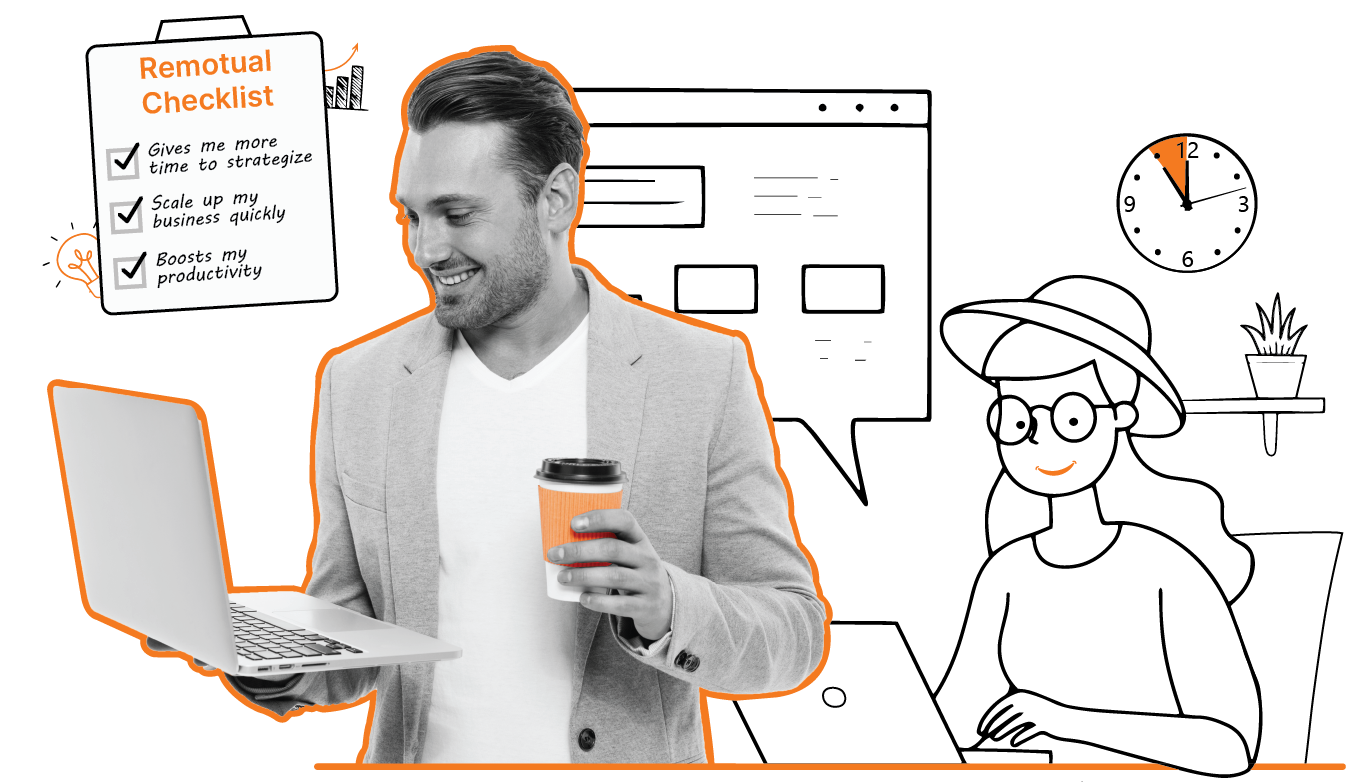 Do what you do
Best
Let us handle the
Rest
Gain 30+ Hours Every Week! Let our skilled Virtual Assistants handle all your remote tasks, giving you back your most precious resource – TIME.
Maximize your success as a business owner - without compromising on your health and family
Your Dedicated Taskforce Led by an Elite EA: Why juggle multiple VAs? Get an Oceans-11 style Team with a dedicated EA as your single point of contact. Simplify management, amplify results!
What makes Remotual unique?
Hire a seasoned Virtual Assistant and assemble an Ocean's 11-style elite team of specialists to tackle all of your back-office, growth, marketing, and operations with precision, ingenuity, and exceptional teamwork
What we can help you with? - Pretty much with everything! No kidding
2 Ways to offload your work!​
From a slight boost to complete end-to-end operational support, we empower you in two ways to help you achieve your maximum potential.
Any idea/business that ever changed the world had a team behind — not just any team, the best team. Remotual empowers business owners prepare for growth. Hire a top notch Executive Assistant assisted by a team of Virtual Assistants.

Our numbers speak on our behalf

"This is how small businesses become medium businesses"
I have a friend who I am trying to pitch Remotual to. She keeps saying she can't afford it but we know what a great service this is to budding businesses and that she truly can't afford NOT to.
"I like Mudassar a lot. Yea he's awesome. Super responsive which I love!"
I actually told my work partners and they might be interested. I gave him ALOT of tasks and might be using him for wayyyy more hours than I initially mentioned.

"Efficiently Managing Competing Demands: A Testimonial of Gratitude for Unwavering Loyalty"
Carla Hilario Thank you for expertly organizing the competing demands on Scott's time. We appreciate your protection & loyalty. Thank you for all you do.
Elizabeth Smith, General Counsel